Home
Up
Contents
About Me
Wildlife
The Rest Of The World
Americana
Civil War
Where To Shop
Originals
Services
Show Time
Studio News
My Stuff
On The Drawing Board
Price List
Order Form
Favorite Links
Feedback
Search
Send The Site
Videos
"Mountain Lion"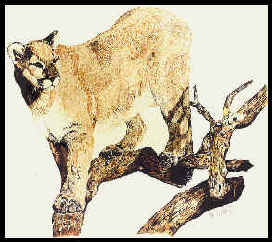 There is something about mountain lions that intrigues me. I can't seem to draw enough of them. This is the second drawing I did in colored pencil and I was pretty satisfied with it. I remember trying to be as correct as I possibly could on the proportions of this cat.